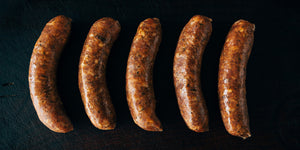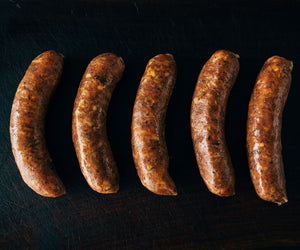 Mandola's Signature Sausages
Mix & Match Your 5 Favorite Flavors For $45
Who Is Mandola Food Co
Your local, online, artisanal butcher shoppe bringing hard-to-find and sought-after cuts directly to your doorstep.
Exclusivity
We focus on providing hard to source ingredients to help  deliver restaurant quality meals to your kitchen table
Simplicity
No unpronounceable words, Basic Ingredients, Simple recipes for the busy family
Quality
Synonymous with the Mandola name, Quality has been our top Priority. Once you taste our Quality, you will see the Value!
See What People Are Saying!
★★★★★

I was able to get my hands on theItalian, Brazilian, Ghost Pepper CheeseAndouille sausage from Mandola Food Company and I was extremely impressed. You could see the ingredients in the casing. These are not just glorified hotdogs like so many you find out there. Their sausage is simple with visible ingredients and incredible flavor!  I love it so much and can't wait for their other products to launch!

Mahaf

Royse City, TX
★★★★★

Add customer reviews and I spend more money on fine meats than my mortgage. I've bought them all and cooked them all but these meats are at a different level. I feel like a super duper master chef because of all the complements I've been receiving from my last feast. Kevin Massey runs a top operation and you can't find a better quality meat anywhere else. Keep it up Mandola Food Co

Matthew R.

Los Angeles, CA
★★★★★

Great selection of products. You can taste the quality in every bite.

Shawn R.

Los Angeles, CA